H2NorthEast Project
The UK must decarbonise industry to achieve its target of net zero emissions by 2050 and we are eager to play our part in meeting this target. Nearly half of carbon emissions from UK industrial clusters come from Britain's historic engine room: Teesside and the Humber.
Local industrial sites in Teesside are looking to fuel switch from natural gas to low carbon hydrogen. We believe that blue hydrogen will play a major part in the transition to net zero and are currently targeting investment in a 1GW blue hydrogen facility located at our CATS terminal in Teesside.
This would be the first blue hydrogen production facility on Teesside, and have an asset life of around 25 years. The project, estimated to come on stream by the end of 2027, would deliver low-carbon hydrogen that will decarbonize industrial heating processes in the Teesside industrial cluster and/or blend with natural gas into the NTS or NGN local network.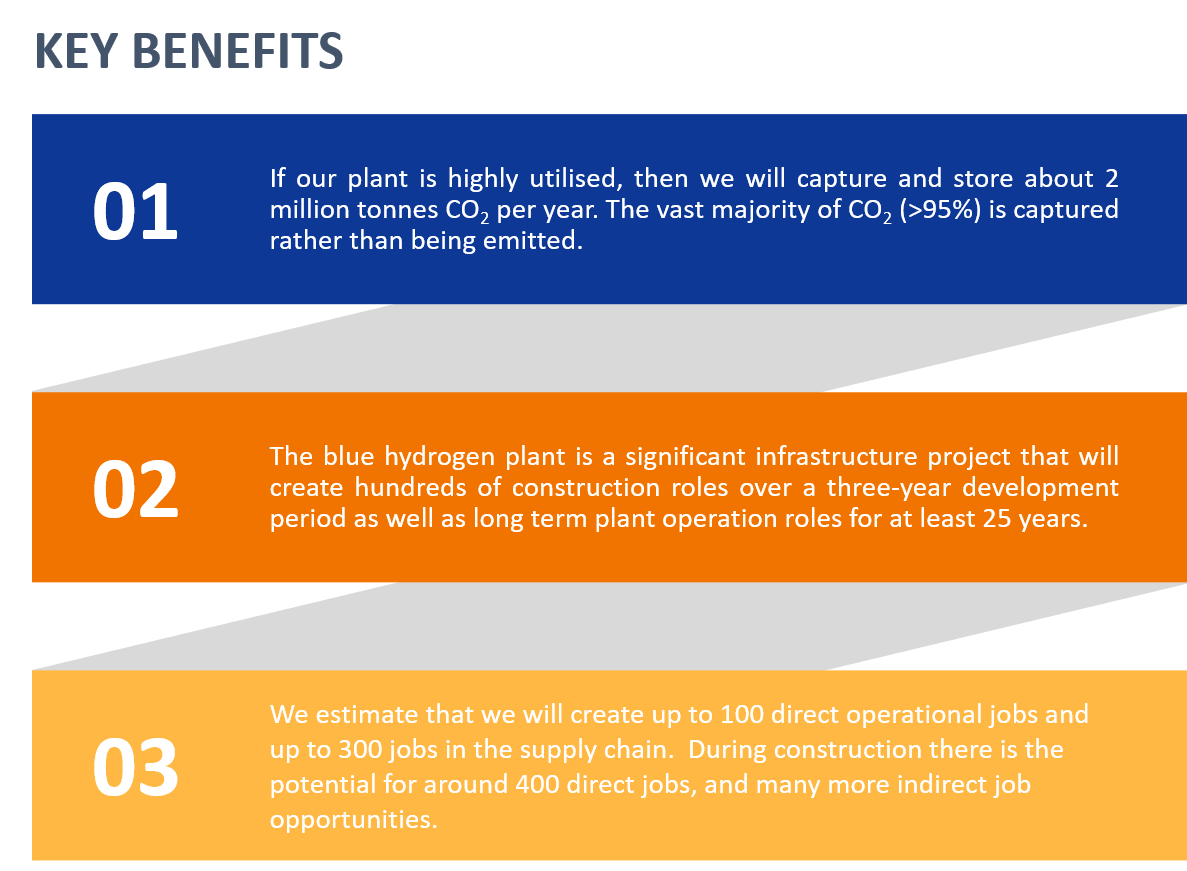 Blue Hydrogen Technology
Blue Hydrogen is produced from natural gas, via a 'reforming' process with the CO2 by-product captured and permanently stored.
Much greater CO2 mitigation can be achieved in a centralised blue hydrogen plant than trying to capture the CO2 downstream (post combustion) at multiple decentralised customer sites.
Hydrogen is a clean fuel, when it burns it reacts with oxygen to create water. By capturing the emissions associated with creating Blue Hydrogen it is an excellent net zero solution in the short and medium term, whilst infrastructure is put in place to create hydrogen from renewable sources.
Blue hydrogen technology is scalable now, compared to green hydrogen from renewable sources which is currently limited by small unit size, high capex and high opex.
Why CATS?
There are many features that make the CATS terminal an ideal location for blue hydrogen production in Teesside. Currently all our gas from the CATS terminal is exported to the national grid, along with the other gas processing facilities in the area. The ability to process blue hydrogen on site at Teesside and export via the current national grid connection is efficient and supports blended gas in the national grid.
Another key feature is that the NTS connection point is within the CATS site boundary. This, together with the availability of significant quantities of natural gas, means the location would also be optimal for a future blending facility for feeding hydrogen into the NTS.

Contacts
Please send supply chain and general enquiries to H2NorthEast@kellasmidstream.com and we will respond within 24 hours.